Blog

BACK TO ALL ARTICLES
Can the Software You Get Survive the Outsourcing Company's Closure?
24.07.2020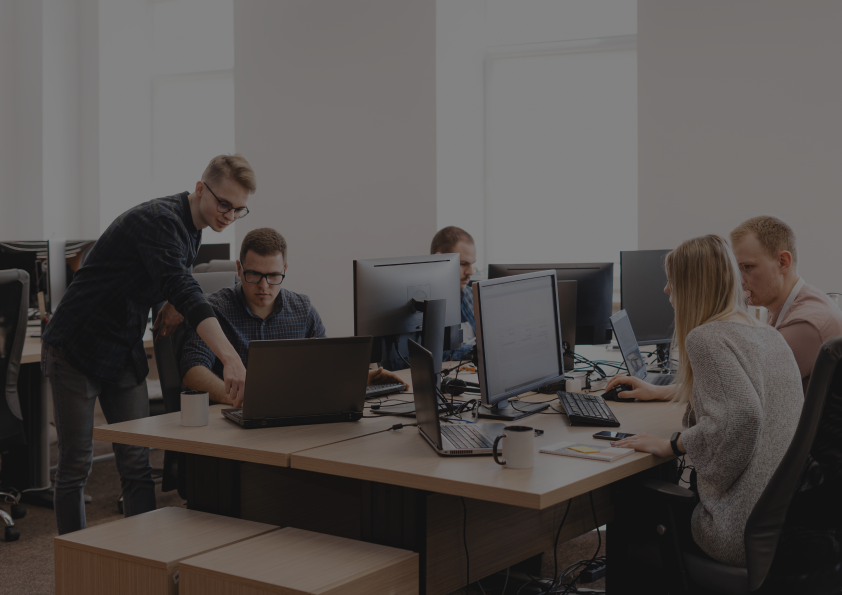 What happens if an outsourcing software development company you are going to do business with will disappear in, say, 6 months or a year? Do you have to rebuild the software product you already paid for from scratch? How to make sure you can further access, modify, and add features to your business application, if necessary?

As you can see, there are quite many questions to answer. So, this article is here to reveal the most important things you should know about the prospective viability of your software development product.


Reliability in unprecedented times: Does outsourcing comply with it?
First things first. Let's think about what the most precious thing is in the modern business given global lockdowns and shaky positions of many national economies? Stability. Most of all, we want to be sure that our company will survive through all these new challenges and unpredictable things.

For the entire recent decade, we were dead sure that we had found a magic wand, with all these tried-and-tested business management methods we used to lean to. But reality perfectly showed that a theory is still a theory, and occasional black swan events during workflows are a far cry from what can happen even with large-scale businesses. Not to say about such challenges as the demise of an outsourcing company you are about to work with.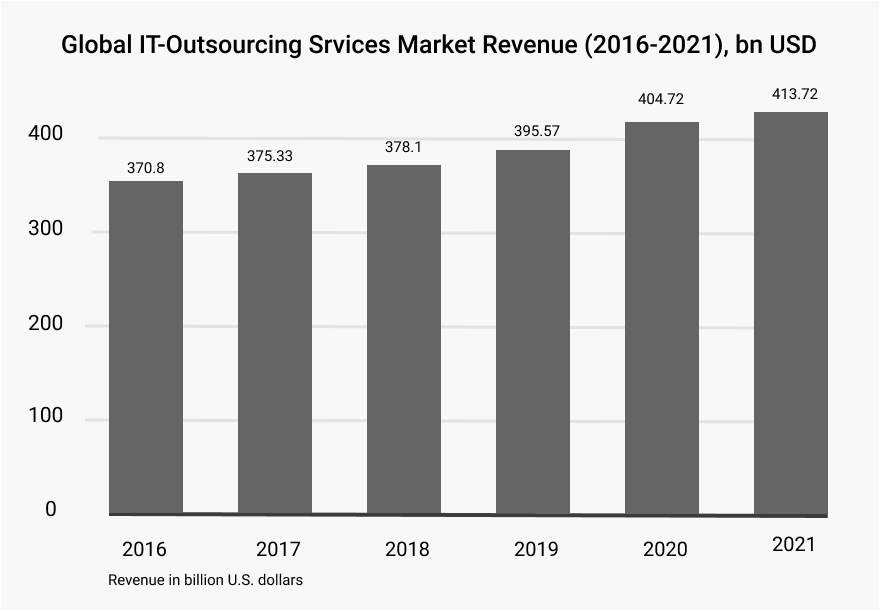 This given, all businesses today are vulnerable to the COVID-19 pandemic and other hardships, and can be subject to extensive losses. The same goes for outsourced software development companies. However, does it mean that organizations should stop delegating their IT-related tasks to third-party developers? No, definitely not. Let's get to know what's going on in the IT industry today as the numbers speak for themselves, both actual and forecasted.
(source)
As you can see, everything is clear on the IT outsourcing radar in terms of investment prospects and reliability. That's it for now, just for you to make sure you're going the right way on deciding to hire outsourced IT developers. For more details on outsourcing attractiveness, please refer to our recent articles focused on comparing in-house and outsourced business models.
Now, let us clarify where exactly you should look for a decent software development team, and how you can measure the code endurability.
Outsourcing in Eastern Europe: Commies are gone, top talent is here
Eastern Europe has become one of the key regions for the development of software products. As of 2019, the region comprising four countries – Ukraine, Belarus, Poland, and Romania,
has generated over 5bn USD in annual revenue
. With an impressive amount of nearly 600K IT professionals before the coronavirus outbreak, this hub for outsourcing IT services is at its peak now, and keeps strengthening its footprint on the global market.
Recent reports show the increasing growth rates of the IT industry in countries like Ukraine. According to the facts revealed, outsourcing software development in the region is 4-5 times higher than the world average.
- Poland is well-rated as an R&D hub for international corporations. Dozens of companies, including Fujitsu and Nordea, have opened their research centers here.
- Belarus is focused on education. Higher educational institutions of the country start opening more and more specialties related to IT. Most graduates are willing to work further on an outsourcing basis.
- Ukraine looks even more promising as the country already enjoys having around 300 successful IT companies with at least 50 employees that offer their outsourcing software development services to the rest of the world. Ukrainian developers usually have a solid academic background, hands-on experience gained from working in local offices of the world's leading IT companies, and the best software and hardware resources at their disposal.
With this in mind, hiring an outsourced team of IT professionals from countries like Ukraine sounds like a great idea. Now, let's see how well their code quality should be to meet your individual far-reaching business plans.
The importance of code quality
Even if an IT company is downright ready to develop and implement any software application for your business, the quality of code – i.e., the quality of the final product you'll get, oftentimes leaves much to be desired. As a result, you'll most likely find yourself at a complete loss if the IT company you are dealing with disappears one day.
Software quality can be explained in many words, each of them holding true, and being critical to your business success. Any high-quality code must be clear, consistent, maintainable, usable/reusable, and suchlike. But before going any further with our recommendations, let's check how developers themselves rate the quality of the software they develop for their customers.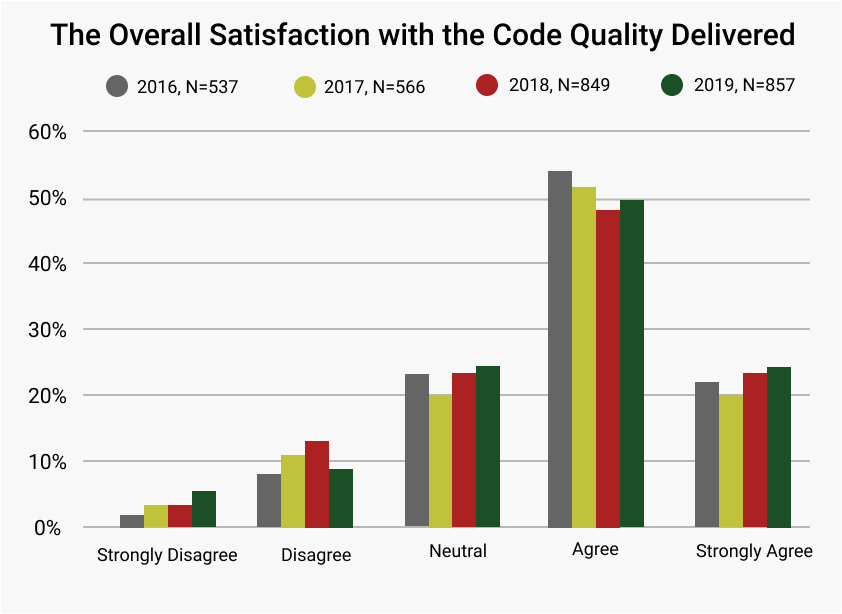 Software code quality: Developers' viewpoint
Interestingly enough, software development professionals are largely quite satisfied with the quality of the business applications they deliver. The 2019 State of Code Review Report revealed that the majority (over 50%) of high-level developers are very positive about the way it goes with writing their code. And it's been so for the past five years.
(source)
The odds are, they are just giving themselves too much credit. Although with all today's code review processes, and team management techniques like Scrum, there is less room for poor software development performance. Either way, the chances to hire a decent team of outsourced IT specialists are rather high. However, being able to evaluate the code quality if you are a business owner is a whole different story.
Software code quality: What you should consider as a customer
For the uninitiated, a task of evaluating the quality level of third-party code is near impossible. And it's not necessarily all about your lack of proficiency in the matter. This is more about not knowing what are the actual aspects you should pay your attention to. Here we've got you covered, boiling down the whole mess of technical details to several core characteristics. All you need to do is to follow this go-to checklist, and make sure if your outsourced companys code can comply with them.
-
Code Formatting or Readability.
The code must be written with regard to the standards existing for a particular programming language. Readability is important even for literary texts, to say nothing of software codes and scripts. Once written, the code must be easily understood by another IT developer.
-
Reliability.
The factor that indicates how bug-free your future business application will be. Are you ready to jeopardize your system's operational efficiencies due to numerous downtimes, freezes, and glitches? Not you, for sure. So the software must work smoothly under different circumstances and workloads.
-
Maintainability.
Yet another great thing for you to consider before opting for an outsourcing company for software development. This metric can show you how quick it is possible to make changes to the existing code, if necessary. Also, it means how well the IT specialists are able to address some time-critical issues that may occur.
-
Compatibility and Portability.
These metrics stand for software independence. Do not hesitate to ask your would-be contractors about how well their code modules are geared for working in various runtime environments, and on different platforms.
-
Extensibility or Reusability.
Perhaps the most important factors that may affect your final decision as to whether or not you should collaborate with a certain outsourcing software development company. Customization is another great word for this code quality characteristic. Along with your business footprint scaling up, you will definitely need to impress your customers with new product features.
To improve their user experience, you'll have to make adjustments to the current application, redesign your eCommerce website to be in line with modern UI/UX design principles, streamline buying decision process, or add any other enhancements. That's where robust reusable code comes in handy, enabling any other IT dev team to make necessary modifications.
All in all, it is preferable to find a long-term partner for outsourcing software development tasks. In the long run, such collaboration is way better in terms of cost-efficiency and operability. If not, however, please make sure the code quality they offer is up to the mark, and you can easily get your software application modified any further with other IT teams available.
Or, you can both eat your IT cake and still have it with HebronSoft. We are seasoned software development professionals that provide robust outsourcing IT services for SMB and large-scale enterprises across the Canadian and US markets. To estimate your surefire success project with us is very simple, just
drop us a line
.
7 min. read
Related Content
In-House VS Outsourcing: Pros and Cons
VISIT
Browse Content
How to Choose the Right Software Development Team
BROWSE CONTENT
Our Customers' Results
250%
Increase in Sales of Customers' Products
550%
Increase in Online Donations for NGOs
5.0★★★★★
Ratings from Clients' Satisfaction