Blog

BACK TO ALL ARTICLES
How Well Can IT Outsourcing Companies Handle Customers' Expectations?
06.10.2020
Nowadays, IT outsourcing as the business practice of hiring a third-party company to perform services and create software applications is becoming increasingly widespread.

Once traditionally done by staff and in-house employees only, now software outsourcing seems to be a way more inviting prospect for companies of any size and budget. Midsize and large-scale enterprises resort to cost-efficient IT outsourcing services either on a recurring or one-off basis to get their urgent projects streamlined or built up from scratch.
Meeting customer expectations is important

To tell the truth, software development outsourcing is not only about cost saving. By and large, it is a long-term business strategy that can enhance your business performance rates and eventually boost end-customer satisfaction. Software outsourcing enables companies to delegate multiple IT-related tasks and leaves much room to laser-focus on their core business strategies. In the long run, it results in improving organization's operational efficiency and cost reduction.

At the same time, business needs are getting more and more complex as they require innovative custom solutions. The same goes for ever-growing customer expectations when it comes to outsourcing software development tasks. As customer expectations evolve, so should the level of IT services that a software outsourcing company is about to offer you.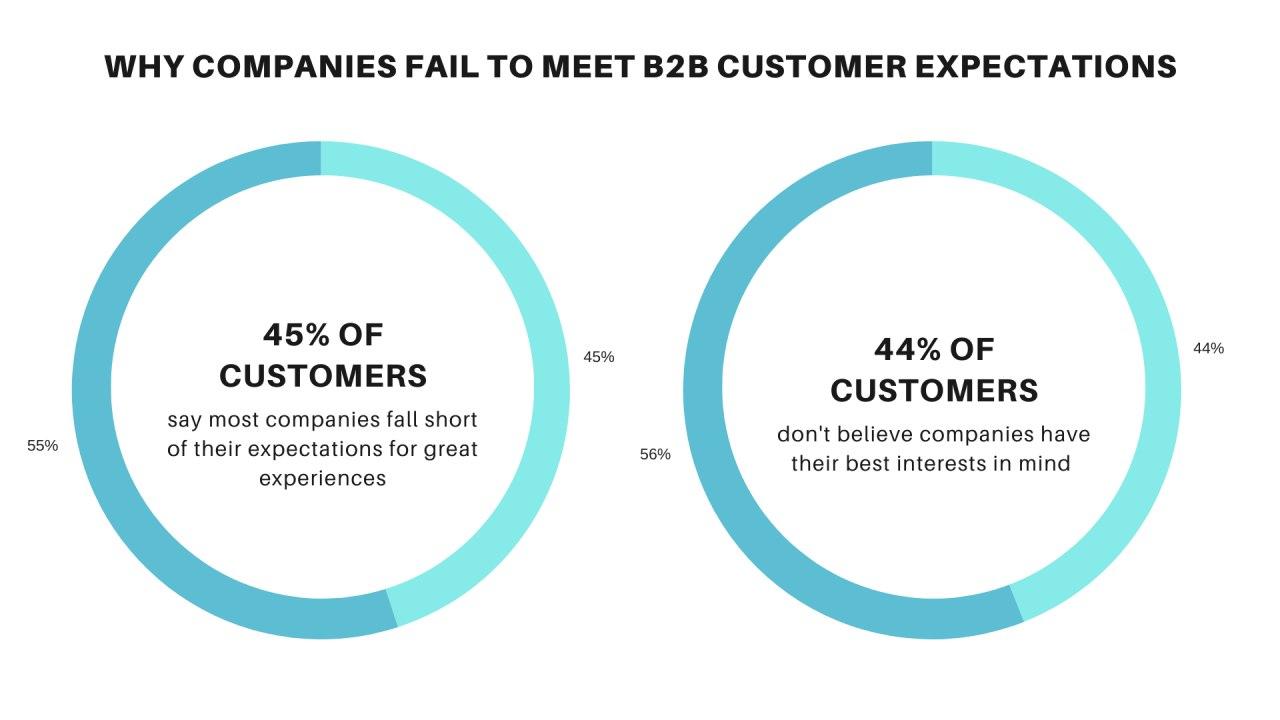 Customer expectations: 5 risks to consider
Despite being most helpful, the IT projects you are going to outsource to a third-party company are not risk-free all the way. Of course, this is not about double-crossing, data theft, or other serious cybercrimes. With this, however, you will definitely not be happy about getting a poor quality software product in return for your money.
Source
So, how to know for sure that a software development outsourcing company is capable to meet, if not exceed, your customer expectations? Here's a checklist of five key issues you may come across while choosing the right overseas IT company. Along with it, these are some solutions below to help you out with avoiding these risks to finally enjoy robust outsourced software development services.
The list of key factors leading to underperformance boils down to the following:
1. Lack of communication between companies
striving for clear and consistent interaction with some remote teams working on one project.
It's obvious that a continuous dialogue is needed to ensure the expectations are met, everything is clear and all the project outcomes are achieved.
Actually, there is always a risk that information is either not clear or is not appropriately transmitted. Sometimes there is hardly any flow of dialogue when one party needs more detail but the other one is not ready to provide precise information on the matter.
It may cause dragging project timescales, increasing confusion between parties and potentially derails an outsourced IT project.
What should be done?
-To establish meaningful communication at the beginning of the project. It helps get familiar with one another, thus increasing the level of mutual trust and confidence.
-Before starting a project, make sure both teams are clear on the roadmap, deadline, expectations, milestones, and other complicated factors able to make miscommunication issues.
2. Ignoring company culture
Ideally, any outsourced IT team should be in the know of the company culture of their customers. Culture guidelines need to be strictly followed to ensure the success of a software development project.
In reality, ignoring team culture results in a breakdown in interaction along with business expectations not being met. Not knowing each other's public and corporate holidays is yet another reason for not living up to customer expectations.
What should be done?
-Clearly defining the way the offshore team should communicate with internal team members or managers.
-Special attention should be drawn to the corporate culture to ensure all the software product features, like UI/UX design, privacy policy, etc., fully comply with your company's business values and main guidelines.
3. Poor business analytics, DevOps and project team management
While having good programmers on board is crucial, any IT project is destined to reach no success without professional project managers, DevOps engineers, and business analysts.
Ideally, such specialists should be given the task of supporting the project from start to finish stating the needs of the clients and ensuring feedback with them.
In reality, they are oftentimes sidelined, or simply a small outsourcing IT company cannot afford a full-fledged software development team. No matter what the reason, it can cause unexpected misunderstanding, delays, and overruns.
What should be done?
-To ask your prospective outsourcing IT services provider if they have seasoned PM, BA, and DevOps specialists to maintain and streamline interaction between the teams.
-Check if these specialists clearly realize the scope of your customer needs and requirements. This given, they can assign all the necessary tasks to developers in a meaningful way, and ensure the final results will meet expectations.
4. The fear of losing trust and control
B2B customers need to always trust outsourcing software developers, just the same way they do while dealing with their internal projects.
In fact, the lack of control and transparency in communication leads to breakdown or misunderstanding.
What should be done?
-Look through the previous outsourced projects of an IT company you are going to work with. The best way to check their credibility is to read other businesses' reviews on several trusted independent platforms, like Clutch, SoftwareSuggest, TrustPilot, etc.
-Make time to read over their case studies. Any trusted software development company must have a good deal of them on the website.
-Ensure that the future development process is going to be quite transparent, so that you can get the full picture of it at every stage.
Uncertainty over project rights and documentation
There is no doubt that any customer expects to get a unique software development product tailored to their business needs. The same holds true for all the documentation, copyright, and software licenses associated with the IT project underway. No one is happy about getting involved in third-party law violations, or being able to utilize a business application over a limited period of time.
In reality, inexperienced outsourcing IT companies may not be aware of all the terms and conditions, including the right to use software from third-party vendors. It can jeopardize your own strategy and reputation, in case you are not allowed to use for business purposes the software product you already paid for. And this is really one of the biggest pain points while dealing with unprepared software development teams.
What should be done?
-Make sure the IT company you are about to opt for has every single right to utilize software solutions for your future outsourced project, be it their own products, open-source modules, or any other.
-The documentation on the project must be comprehensible and has to include as much detailed information as possible to minimize the risks of anything to go wrong.
Bottom line
With all that said, software development outsourcing services are an actionable way for enterprises to enhance their overall business performance. If done by truly IT professionals, the outsourced project will surely help you boost the operational efficiency and maximize your profits.
The only thing to keep in mind, though, is to find a decent proficient outsourcing IT team that has enough expertise and competencies to meet your expectations on the project. So, if you are looking for a responsible and experienced software development company that can fully meet and exceed your individual business expectations, just
contact us
and let HebronSoft get you covered here.
5 min. read
Related Content
Addressing 6 top problems in outsourcing
VISIT
Our Customers' Results
250%
Increase in Sales of Customers' Products
550%
Increase in Online Donations for NGOs
5.0★★★★★
Ratings from Clients' Satisfaction