Blog

BACK TO ALL ARTICLES
How to Create an App like
Slack that Strikes Gold
08.02.2021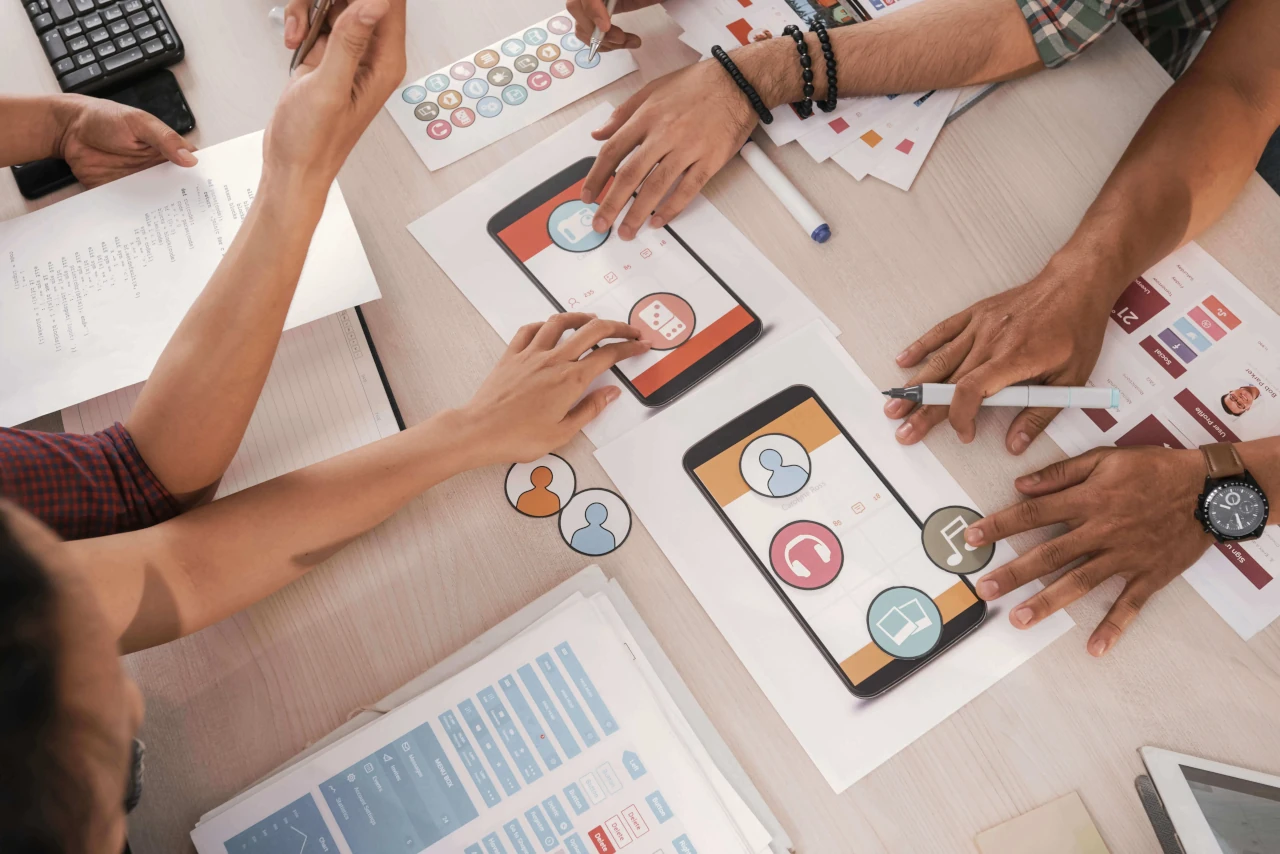 In today's unstable isolated world that is hard-hit by the Covid pandemic, ensuring remote mobile-driven interaction can be the one saving grace for business. With this in mind, a lot of entrepreneurs and venture capitalists dream of having a software application that would become a real game-changer in today's B2C/B2B market. However, building a robust mobile or web application that would attract millions of eyeballs from all over the globe is not a cakewalk at all.

You may be wondering what's in it for you and your business?

Just to make things clearer, let's break down the reasons for getting a profit-making app in the form of an FAQ-like article.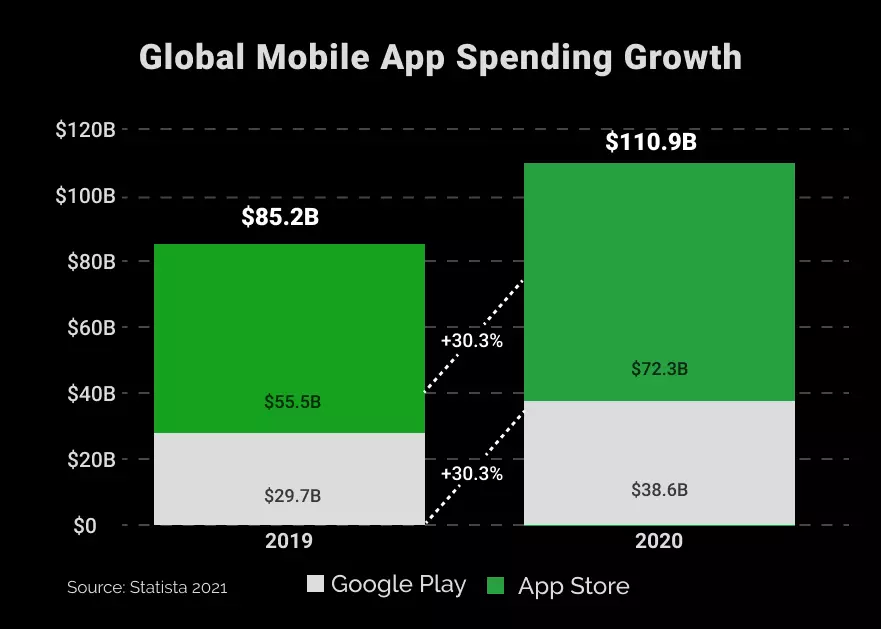 Can I make money from mobile apps?
In two words, definitely yes. So, let me elaborate on this point. Tough coronavirus times have triggered the sales soar of mobile applications capping record 2020 year of growth, says
Statista
. With consumer global spending on mobile apps that already passed the $100 billion threshold, the mobile app market seems to provide a good ground for extending your business outreach in 2021 and further on.
Another fact that starkly illustrates the necessity of introducing mobile apps across your operational and customer touchpoints is skyrocketing app download and install rates. And this time around, it's not all just about mobile games, reveals
Sensor Tower
. Depending on the category, popular Android and iOS non-game apps 2020 generated on average from 24% to 75% more revenue as compared to 2019. The highest-earning non-gaming mobile applications on
the App Store
and
Google Play
became
TikTok
and
Google One
hitting over $1 billion and $440 million respectively.
All this comes to show the rise of worldwide adoption of mobile and web applications for business and everyday life. The range of app user cohorts is really impressive – from pure consumers to advanced business app users, from work-from-home employees to next-gen approach supporters of BYOD (bring your own device) and enterprise mobility.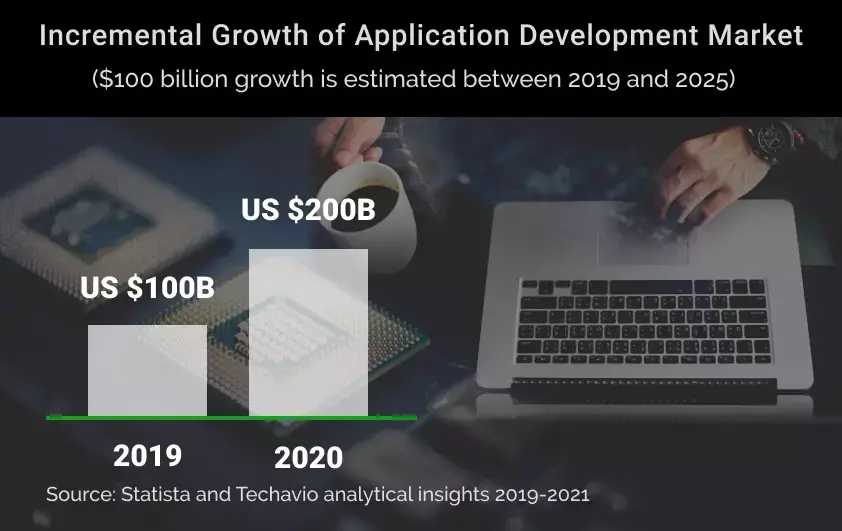 Isn't it too late for me to jump on the app development bandwagon?
No way. The application development market is still evolving. With a summary of revenue forecasts provided by
Statista
and
Technavio
, you can be sure that the app development horizon is quite vibrant for business investing:
- The app development market is expected to value up to $145b by the end of 2021
- By 2025, the application development segment is projected to reach close to $200b with a steady CAGR of nearly 9%
- The largest share of the app development market in terms of revenue rates is estimated to go to the United States by 2022, and will account for not less than $72b.
With all that said, the revenue rates of the app development segment are soaring high and will be still counting up to 2026, to say the least. What does it mean for your business in terms of maximizing profit margins? Well, all the evidence suggests that doubling down on your
business app development
is truly worthwhile. As we enter into a new 2021 year, to have a robust mobile or web application catered to your business needs seems to be a great start.
How to capitalize on a mobile or web application for business? Any success stories?
Sure thing. As of 2021, there are lots of successful cases telling us how well-designed and developed apps turned into pots of gold at the end of the rainbow for their owners. As the title of this article implies, this time we focus on
Slack
as one of the best examples of investment efforts and outcome results.
In a nutshell, Slack is a business communication platform designed to streamline operational flows between teams and departments within your organization. Launched in 2013 as a proprietary web app software for professional interaction, it also managed to gain much traction among non-business users. What's more, employees are allowed to create and join multiple workspaces to exchange messages for off-work communication purposes.
In other words, this business messaging app provides various types of users with a feature-rich functionality like private groups, open chat rooms, direct messages, emoji libraries, third-party software integration and API. All this adds much value in terms of improving app user experience.
Offered to customers as a freemium software product, Slack also has several paid subscription plans for small and midsize businesses as well as for large-scale enterprises. This given, the owners profited much from the app monetization while attracting nearly 13 million app users along with company's shares valued close to $20 billion in 2019.
On December 1, 2020,
Salesforce
, a global leading cloud-based software company, signed an agreement to acquire Slack. As of the date of Slack's acquisition that brought its owners $27.7 billion, the deal was defined by
BBC News
as the biggest tech merger in recent decade. On top of this,
Marc Benioff
, Chair and CEO at Salesforce, named this 'a match made in heaven'.
So, Slack is a great example of how to make a fortune out of a seemingly ordinary business messaging application.
How to get an app developed: in-house or outsource services?
First off, let's be honest about the efficiency of any self-made software. Unless you have a large tight-knit team of seasoned app developers, you'll most certainly fail to get a robust mobile or web application. Numerous bugs, glitches, slow loading times, and app features performing at a snail's pace – all this can scare away your prospective customers and jeopardize the ROI of your software solution.
So, it makes sense to reach out to an external team of app dev professionals that have a proven track record of
successfully implemented cases
of application development.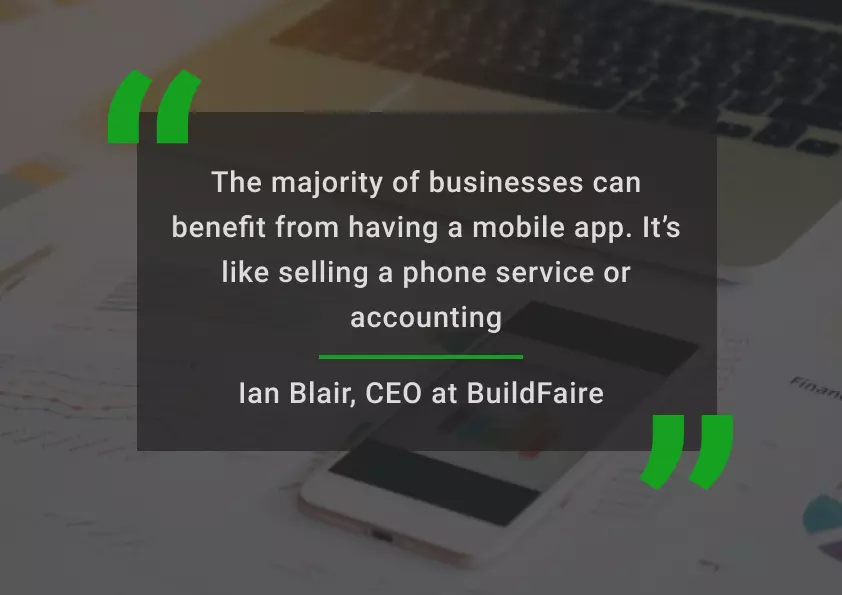 What app features and services can be monetized?

Apart from selling your business app to another company, there are quite many ways to cash in on your mobile application. For the sake of conciseness, let's break them down into several groups:

- In-app purchases for enhanced functionality like data storage

- Promo content sharing via collaboration with lookalike app businesses

- Affiliate programs from top industry players

- Paid subscription plans like SaaS

- Cross selling and upselling ads

- Pay-as-you-go services for new customers

- One-off purchases

- Commission-based revenue model and lots of other competitive ways to profit from your app.


What are the key features every business app must have to succeed?

For a surefire business success, it pays to check out all the features your app development partner is about to deploy. To help you out, here's a quick rundown of what your future mobile or web app should have from the outset:

- Mobile-friendly responsive UI/UX design

- Fast loading times of your app

- Set up two-factor authentication

- User privacy and data protection

- Cross-platform availability

- Easy app registration and login procedures

- Intuitive navigation with easy-to-learn menus and

- Customization of app's main settings and elements

- Built-in alerts and push notifications

- Timely sync options between all user devices

- Smooth integration with third-party software


Where to find a trusted app development partner for getting things done?
Well, the choice is all yours, of course. With this, however, let me introduce you to HebronSoft, which
case studies
vividly demonstrate its vast hands-on experience in web and mobile application development. Just like many other companies across the US and Canada before, all you need to start off your successful app dev project is to
contact the HebronSoft
team for a nice little conversation.
5 min. read
Related Content
Top 5 Corporate E-Learning Trends for 2021
VISIT
Browse Content
Outsourced Talent: How to Control Quality, Coding Skills and the Final Product?
BROWSE CONTENT
Our Customers' Results
250%
Increase in Sales of Customers' Products
550%
Increase in Online Donations for NGOs
5.0★★★★★
Ratings from Clients' Satisfaction