Blog

BACK TO ALL ARTICLES
Growth Hacking and Channel Marketing: You Ask, We Answer
08.07.2020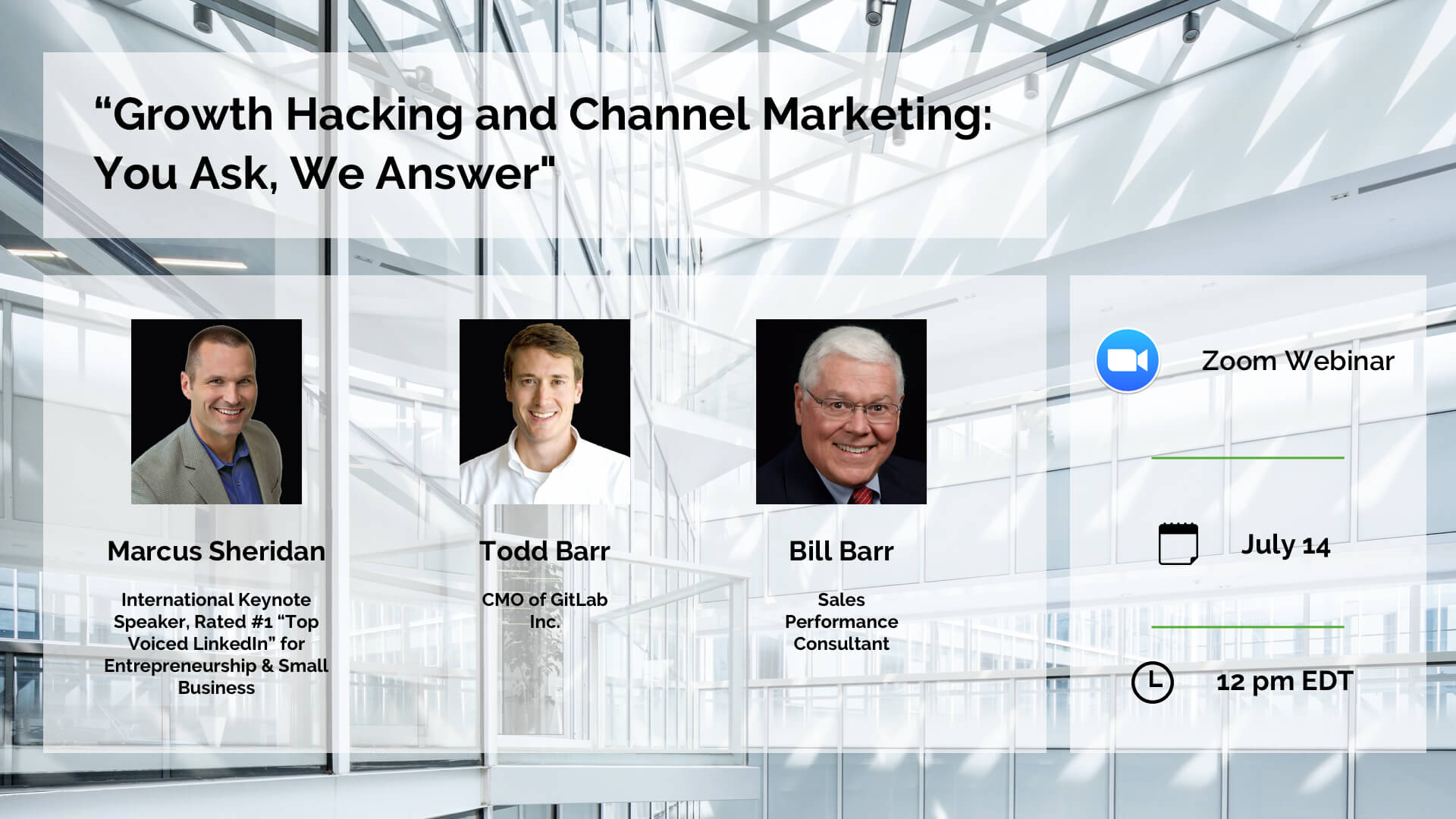 How can you teach, help and solve others problems and by doing that, grow your own business? Do you believe that these seemingly opposite jobs can both be true?
How does growth hacking fit into an overall content marketing strategy?
What channels were the most beneficial to find prospects and get traction at GitLab?
What channels will work best for you to drive traffic to your website?
We will consider even more questions at our webinar 'Growth Hacking and Channel Marketing: You Ask, We Answer'.
Most startups end in failure. Almost every failed startup has a product. What failed startups don't have is traction — real customer growth. Growth hacking is a creative way to leverage content marketing more effectively (and cheaply). We will talk about that.
Please join us for a conversation about fresh perspectives on your marketing efforts to help you win more business.
Our speakers are:
Marcus Sheridan
, a "Web Marketing Guru" dubbed by the New York Times and featured in Inc., The Globe and Mail, Forbes, and more.
Todd Barr
, CMO of GitLab Inc.
Todd is high-tech marketing & sales executive focused on driving value through the commercialization of open-source software.
The webinar will be moderated by
Bill Barr
, Principal of HandelBarr Consulting, helping businesses flourish since 1997.
When - July 14, 2020 from 12 to 1 pm EDT
Where - zoom:
https://zoom.us/j/91678324970?pwd=eXBibUJoRFZTTzNVOXdZVEp2cCs5dz09
3 min. read
Related Content
How to Improve a Buyer's Vision to Produce Better Results for Both Buyer and Seller
VISIT
Browse Content
NEVER EAT ALONE. "SELLING IN 2020" WEBINAR
BROWSE CONTENT
Our Customers' Results
250%
Increase in Sales of Customers' Products
550%
Increase in Online Donations for NGOs
5.0★★★★★
Ratings from Clients' Satisfaction