BACK
Transportation and Logistics software solutions to boost your business development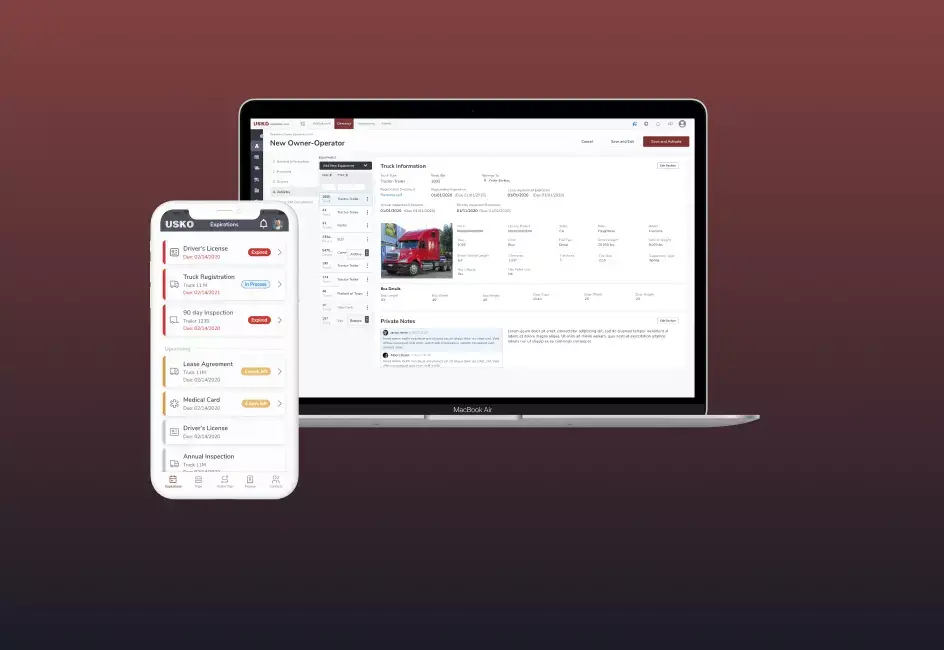 Transportation and Logistics software solutions to boost your business development
Logistics: How to stay competitive in the new normal
Logistics in business means the entire management process of the flow of physical goods, right from the place of manufacture up to the destination point. With this, logistics services have to fully satisfy the ever-growing needs of all the stakeholders, be it suppliers, retailers, or end customers. There are six key components of logistics management:
After carefully scrutinizing project requirements together with Andres, HebronSoft pinned down the following requirements:
Order processing and fulfilment
Warehousing and materials handling
Shipment and delivery scheduling
Transportation management
Route tracking and control
Financial management (invoices, settlements, integrations with different payment systems and tools)
Recruitment and staffing (engaging new drivers)
Customer application, customer databases, clarity of processes and payments

Logistics is a complex and branched industry that involves multiple activities like procurement, distribution, demand planning, order fulfilment, packaging, freight forwarding and customer service. Here's where innovative logistics software solutions help you gain a competitive edge.
Transportation modes
Depending on the way the goods are delivered to consumers as well as the means of transport utilized, logistics embraces the following transportation modes:
Ground logistics
The most traditional way of transporting goods via vehicles or cargo trains that includes road transportation and rail transportation services. Software solutions for ground logistics enable:
GPS vehicle tracking with shipment geotagging and barcode scanning features
Trucking dispatch system to plan and manage truckloads, including LTL (less-than-truckload) shipping
Driver mobile applications for navigation and communication
Document management and reporting including IFTA reports and ELD data
Dynamic route planning and optimization, along with last-mile delivery
Business analytics tools for better decision making
Maritime logistics
A bit slower yet reliable means of transportation that fears no traffic jams, and is great for bulk cargo shipping. It comprises marine transportation activities of shipping final products or some parts by sea from one port to another. Software Solutions for maritime logistics allow you to leverage:
Geolocation mobile apps and web APIs
Fuel consumption forecasts and reports
Vessel performance management and reporting
Automated shipping and voyage operations
Mobile apps for ship-to-shore communication with event-triggered notifications
Fixture and chartering management tools
Air logistics
The fastest, albeit quite expensive way of delivery, best suited for long-distance movement of goods. What's more, air freight forwarding services are the only way out for businesses when it comes to delivering perishable goods like time-critical food produce from a manufacturer to faraway designated warehouses or end customers. Software solutions for air logistics help ensure:
Dispatch and air freight management system
Flight cost optimization based on weather forecast and other external factors
Automated routing and scheduling
Crew management software
Freight forwarding software
ETA (estimated time of arrival) and ETD (estimated time of departure) data processing with automated e-AWB (air waybill) generation
Mixed logistics
A combination of two or more means of transportation mentioned above. Using the mix of different freight transport comes in handy with complex and multiple points of destination that require dynamic route planning with last-mile delivery. Logistics management systems (LMS) for mixed types are a good fit for any transportation mode as they provide you with:
Transportation management system (TMS)
Account management software
Warehouse management system (WMS)
Supply chain management (SCM) solutions
Geospatial and navigation mobile applications
Real-time cargo asset monitoring and performance control
Automated reporting and BI tools
Why opt for logistics software: The prospects for profitable growth and advancement
Logistics is amid the sectors with the highest potential in today's world. According to an AMR survey, the logistics market is expected to reach $12.97 billion by 2027 (6.5% growth in comparison with 2020). The global trading volumes and globalization processes are on the rise; this is why supply chain and logistics companies undergo an essential increase. On the other hand, the industry's high potential invites new players, and the level of competition skyrockets.
Up-to-date companies need to leverage innovative solutions to overcome competitors. Forbes statistics show that innovative solutions are the only way to succeed in the industry. Furthermore, the experts predict the increase of digital ecosystems'' influence from 2% to 30% by the end of 2025. Innovative software solutions and the logistics sector are interdependent on the current level of the sector development.
Top benefits of adopting logistics software solutions
What can logistics software solutions enable your business with?