Case Studies
TMS for USKO
Express Inc.
Covering key logistics demands for transportation provider with full-fledged TMS development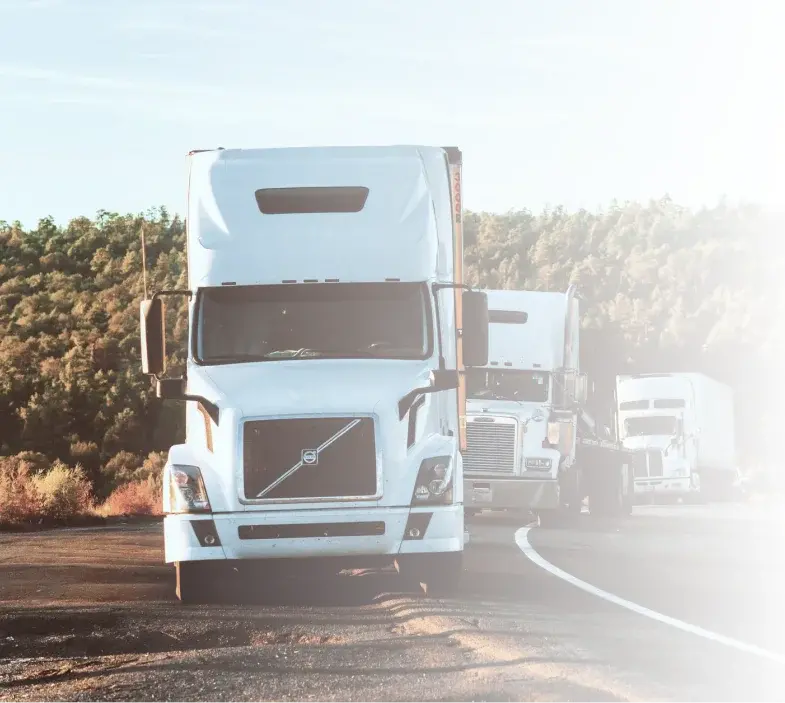 Case overview
According to the GVR research, the global TMS market size surpassed the mark of $120.7 billion in 2020, while the expected growth by 2028 is close to $262 billion. The transport and logistics industry is under crucial changes and challenges, moving towards automation of all business processes across the supply chain.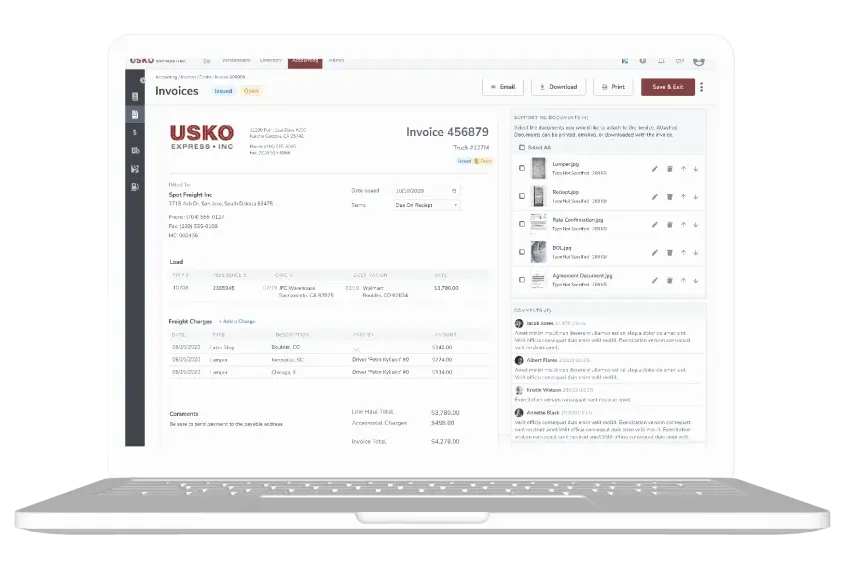 What's more, the adoption of a tech-enabled TMS provides business owners with robust feature-rich functionality that addresses existing transportation issues and optimizes logistics workflows from start to finish.
An effective and functional Transportation Management System (TMS) is among the "must-haves" of every successful logistics and transportation company. The Gartner review displays the TMS integration rates among diverse logistics service providers:
1
50% of companies over $100+ million in freight spend have implemented TMS systems
2
25% of companies with $25-100 million of locked value have adopted TMS solutions.
3
About 10% of companies with a locked value under $25 million leverage such software.
This is why transportation management systems help business owners reach higher business peaks while tapping into new opportunities. A TMS system enables transportation providers to leverage the benefits that boil down to:
reducing transportation operational expenses;
establishing seamless communication between drivers, dispatchers, and other TMS users;
having predefined algorithms to timely solve any force-majeure situations that may occur en route;
ensuring transparency of freight transportation for both owners and their B2B customers;
Dashboards for external brokers, carriers, and individual drivers
minimizing/excluding delivery delays and vehicle idle times;
enabling the overall improvement of managed transportation services.
Business vision and requirements
USKO Express Inc., a leading logistics services company reached out to us looking for a custom multivariable TMS system. The transportation provider had previously integrated a transportation management system, but that software solution failed to meet the requirements of the ever-changing logistics landscape. The legacy software was not compatible with third-party services, providing the business with no automation processes, while the communication with drivers was set up through SMS messages.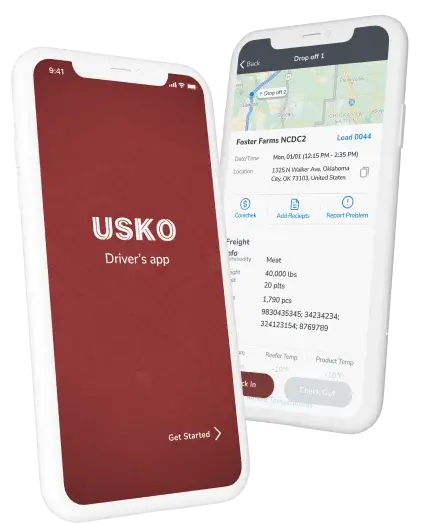 This said, USKO was in need of a complete overhaul to get an effective TMS completely adjusted to the company's growing business goals.

Among the key requirements put before us by our client for a custom transportation management system, the following feature points were highlighted:
1
Smooth interaction between dispathers and drivers during trips, even in areas with poor signal coverage;
2
Automation of documentation flows, including invoices, fuel bills, accommodation costs, truck repair payments etc.
3
Role-based security model (a system would enable diverse users to leverage its functionality, empowering them with different rights and access levels);
4
High-end GPS tracking (managers would monitor the location of drivers and get the convenient interface for trip supervision);
5
Integration of outside services (the company wanted a multifunctional TMS to integrate some third-party services enhancing the system's functionality and usability)
Once the scope of work was set, our team proceeded with the outline of tasks standing before us to build up a reliable Transportation Management System that would meet and exceed all the client's business needs and expectations.
Solution highlights
Based on the previous varied client's experience, our company thoroughly analyzed their feedback to come up with the most relevant software development solution. Along with UX research and customer journey mapping, we managed to provide the logistics company with a high-quality TMS to increase the efficiency of their managed transportation services.

According to our client's project requirements and business logic, we developed the custom Transportation Management System that fully complied with two usage scenarios:
Web and mobile applications for in-house use


The main user roles include dispatchers, drivers, and administrators. Having separate access rights, all the TMS users can easily communicate with each other to ensure the integrity of the company's transportation services across trips.

The TMS system controls drivers, tracks cargos, collects statistics, sends alerts and notifications etc. On top of this, the logistics provider enjoys smooth integration with all the necessary third-party services. The system automates all the processes, increasing the overall efficiency level of the company's transportation workflows.


The developed TMS is streamlined for specific cases when the logistics company has to involve individual drivers to cover additional trips. The system integrates external participants into the logistics mechanism optimizing the interaction and coordination between the administrative staff, dispatchers and drivers.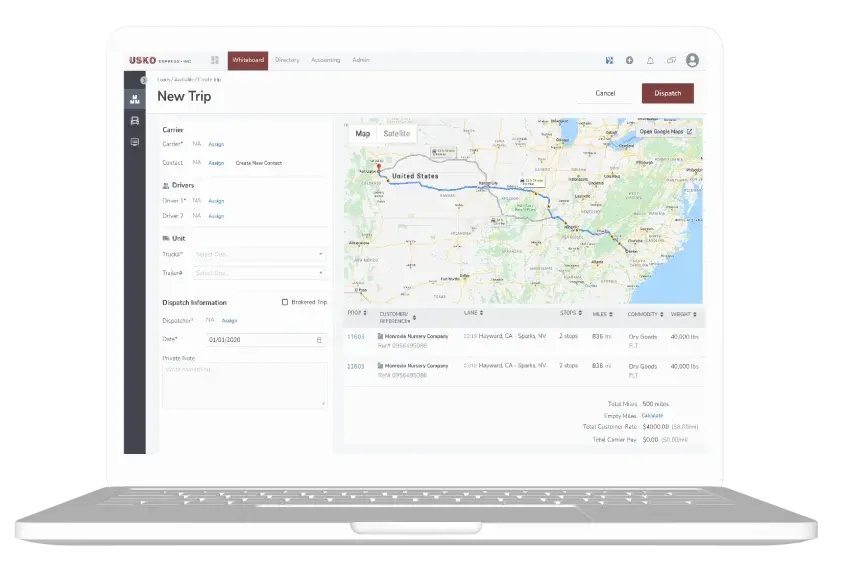 For user convenience, the TMS system is available in two versions:
desktop/web application for managers and dispatchers;
Technology stack
The TMS solution developed by our experts comprises the following technologies:
Frontend

Angular

NgRx
Backend

Node.js

Nest.js
App

Flutter
Value delivered
Our client has been equipped with the high-end TMS that enhances the efficiency of managed transportation services and empowers users with a full scope of functions:
Accountants

manage invoices, create settlements, manage settlement accounts, handle payments etc.;
Brokers

send rate confirmations to carriers, check if a carrier is reliable, track freight location;
Safety managers

get event-triggered alerts like driver's license or vehicle inspection expiration dates, mileage or fuel consumption limits;
Dispatchers

get a convenient and functional interface to dispatch multiple loads, interact with other TMS users, track loads, control operational expenses, etc;
Drivers

communicate with dispatchers, easily access load details, receive advances for fuel/food expenses, and upload services receipts and other financial documentation;
On top of this, the TMS system contains a bunch of useful features available for every user of a supply chain no matter what their roles are. After all, having a custom-built transportation management system can bring you much more value when compared to off-the-shelf logistics software solutions.
Tailored to your niche-specific business needs, the custom TMS can bring you far better ROI in terms of efficiency boost, revenue growth, and user experience enhancement. Here at HebronSoft, we are downright ready to help you out with bespoke logistics software development. Feel free to contact us.
Our Customers' Results
250%
Increase in Sales of Customers' Products
550%
Increase in Online Donations for NGOs
5.0★★★★★
Ratings from Clients' Satisfaction