Blog

BACK TO ALL ARTICLES
Why Choose Angular for App
12.03.2021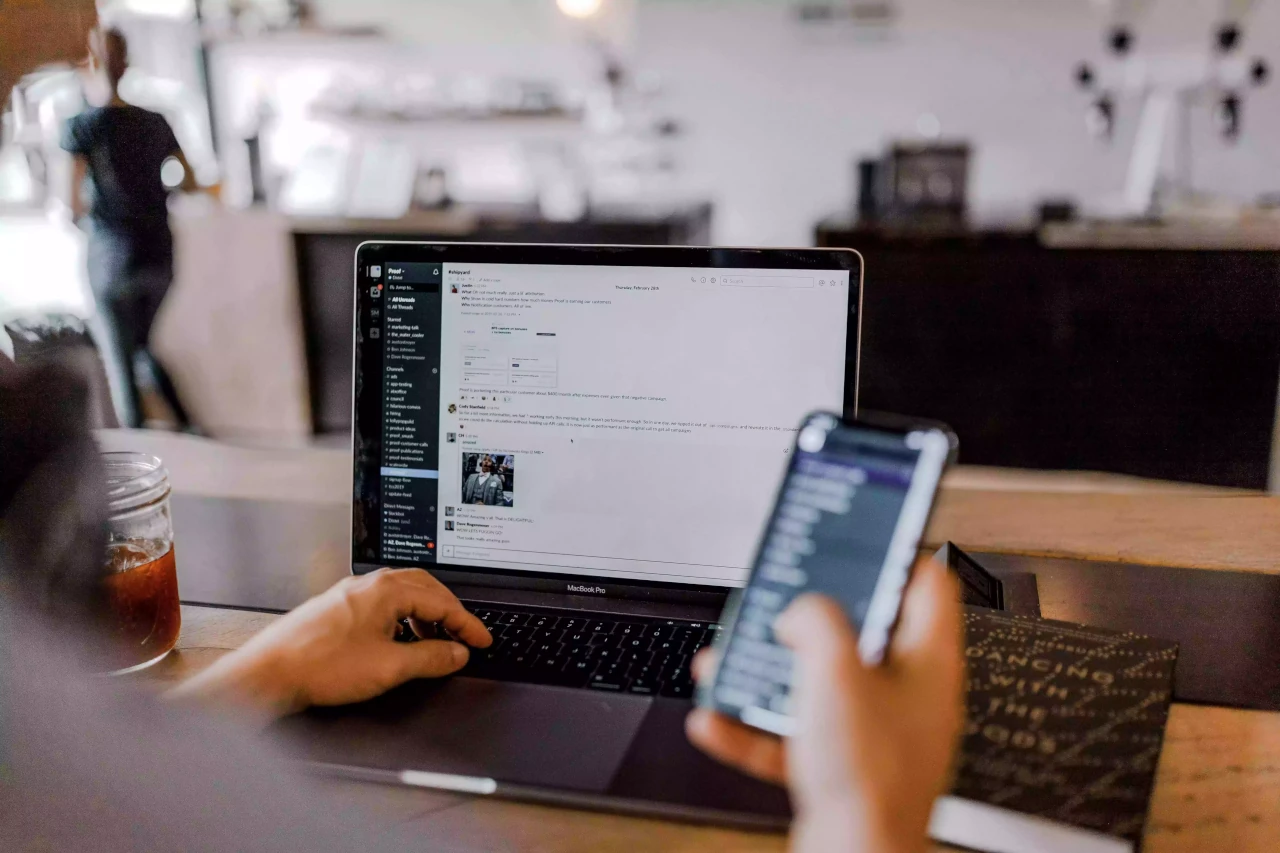 Angular is a great end-to-end tool for robust web and
mobile app development
. The framework deftly combines the power of TypeScript as its primary language, and a bevy of advantageous features like declarative templates, two-way data binding, component-based architecture, dependency injection, and suchlike. Using
Angular
is the right choice when it comes to building websites or mobile apps with dynamic content that entails quick changes made according to user preferences and behavior.
Angular: Overview
Code enthusiasts from all over the world are crossing swords over which framework is the best one for web and mobile application development. At the same time, businesses are more concerned about the benefits of using front-end frameworks like Angular,
ReactJS
, VueJS, or Ruby on Rails through the lens of getting the commercial value. As is often the case in IT, the truth lies somewhere in the middle.
What is Angular?
Angular is an excellent frontend framework that enables smooth application development for various web and mobile use cases. Due to its advanced user interface and functionality, Angular helps create efficient feature-rich web and mobile applications for enterprises, small- and medium-sized businesses (SMBs), and individual entrepreneurs.
Angular vs AngularJS
Angular is a successor of its earlier counterpart AngularJS. The two terms should be used separately as they now represent quite different concepts of software development, and as such, have not to be confused with each other.
What apps can you build with Angular?
The range of applications you can build with Angular is varied in terms of both industry verticals and types of app software. Angular is a perfect open-source tool for developing enterprise-grade apps, single-page apps (SPAs), server-side rendered (SSR) apps, progressive web apps (PWAs), and various platform-agnostic mobile applications.
Angular as part of the MEAN stack
Although Angular can be easily used as a stand-alone app development solution, the framework is actually an integral constituent of a bigger entity, that is the MEAN tech stack. MEAN stands for
- MongoDB – a NoSQL document database;
- Express.js – a modular back-end web app framework;
- Angular – app framework for app development of any kind;
- Node.js – back-end JS runtime environment.
While many frontend specialists can be getting along perfectly well without the rest of the technologies in the tech stack, full-stack developers are happy to leverage the MEAN stack at its fullest potential.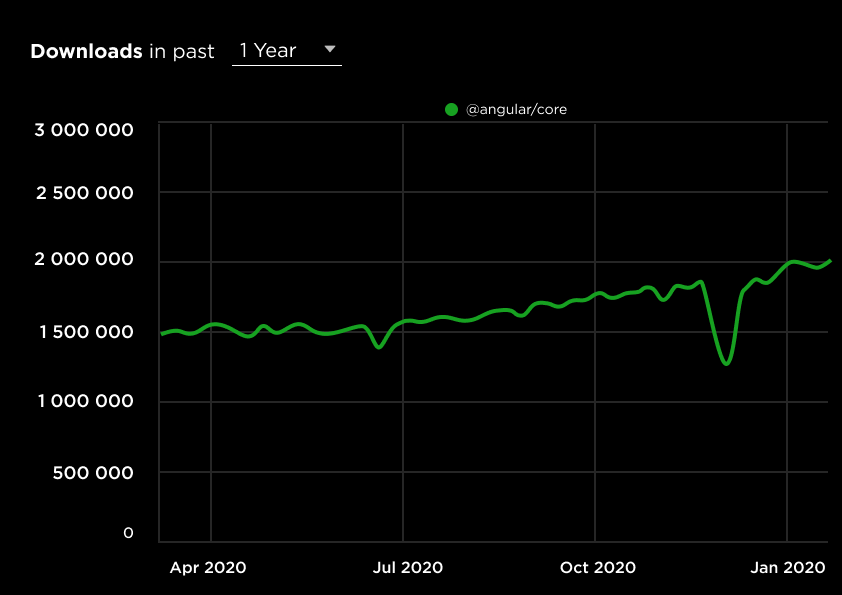 Quick facts on what makes Angular so popular
Before going any further with the benefits of Angular-based web app development, let's check some of the visualized stats and figures that really speak volumes of its high efficiency and popularity among end-users as well as professional developers.
Source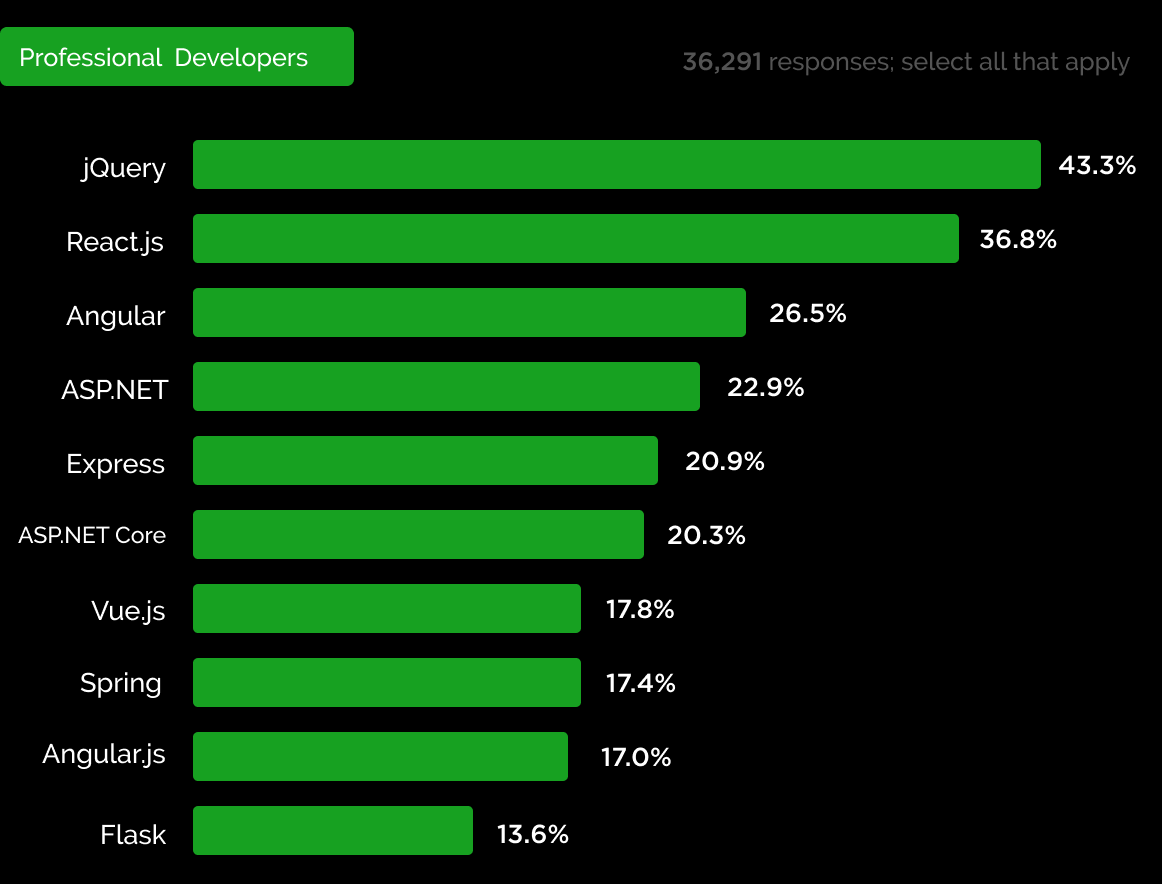 Angular: Number of downloads of the core framework
One of the best ways to measure how Angular has been gaining traction is to estimate the number of its downloads. Except for a slight decrease at the end of December (which is quite obvious due to the Christmas and new Year holiday times), there is a steady increase in Angular downloads
Angular: Number of downloads of the core framework
One of the best ways to measure how Angular has been gaining traction is to estimate the number of its downloads. Except for a slight decrease at the end of December (which is quite obvious due to the Christmas and new Year holiday times), there is a steady increase in Angular downloads
Angular: Plethora of stars and commits on GitHub
The number of commits is a good way to know how actively the project is being developed. With
over 20,000 commits on GitHub
, Angular keeps getting more and more stars as its high community approval from users on this global platform for software developers.
Source
Angular:Getting a winning place on StackOverflow
According to the 2020 Developer Survey by
StackOverflow
, professional developers rank Angular not lower than the third place amid the frameworks they are planning to continue working with. This time around, Angular has yielded only to jQuery and ReactJS frameworks so far.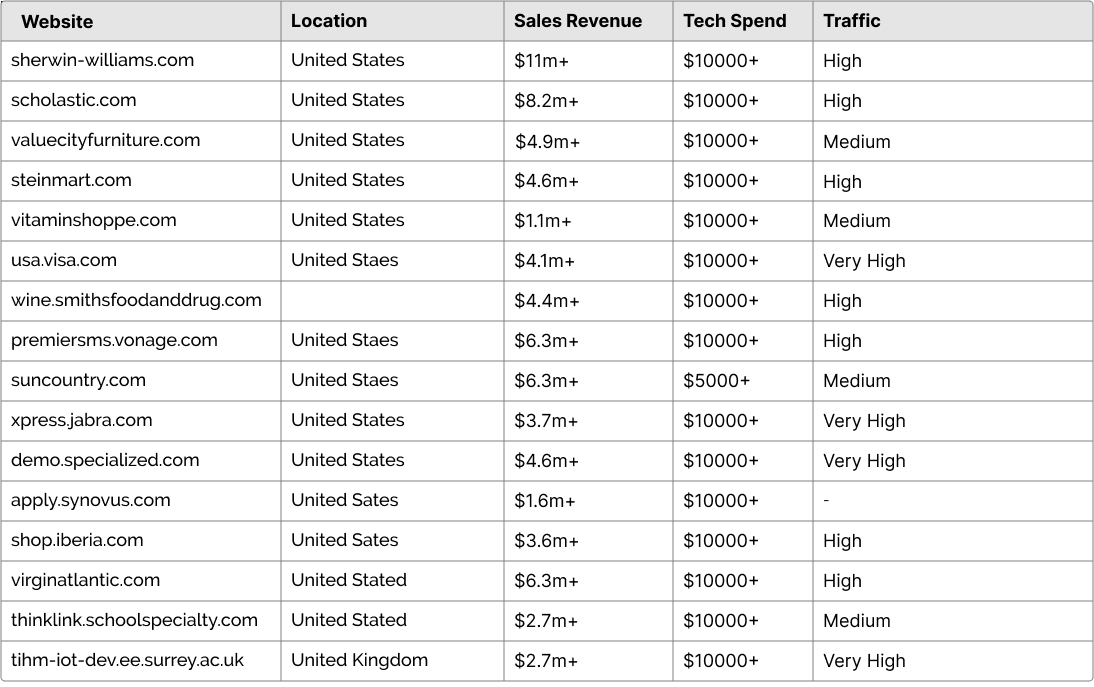 Angular: Market position in 2021
The market position of Angular as of 2021 looks quite promising both for app developers and business owners who want to take competitive advantage by harnessing the potential of Angular. According to
Web Technology Surveys
website, the Angular framework is the tool of choice for corporate websites that enjoy high volumes of traffic. The reason behind opting for Angular is quite expected for large-scale sites, since the framework is perfectly geared for building web apps with dynamic content.
Source
Angular: Big-time market players as the framework users
The latter fact is also proven by a tech trends analytical platform BuiltWith. This said, it shows the data telling us that close to
250,000 websites worldwide are regular Angular customers
To be specific, the top 20 of US-based business websites valued at over $1 million in terms of sales revenue, with high traffic and spending on technology, are regular users and customers of the Angular framework and development platform.
To sum these facts up, we're witnessing a growing popularity of Angular-backed solutions both from the side of both app developers and commercial website owners. The capability of creating highly efficient web and mobile apps of any kind with Angular makes this framework a perfect match for small companies and large-scale enterprises.
Now, let's see what particular strengths allow Angular standing out from the crowd of its competitors.
Source
Key benefits of using Angular for business

So, here's a list of superpowers that make Angular a well thought-out and viable software solution for app development. You can also think of adding extra ones, just in case we forgot to mention any of them.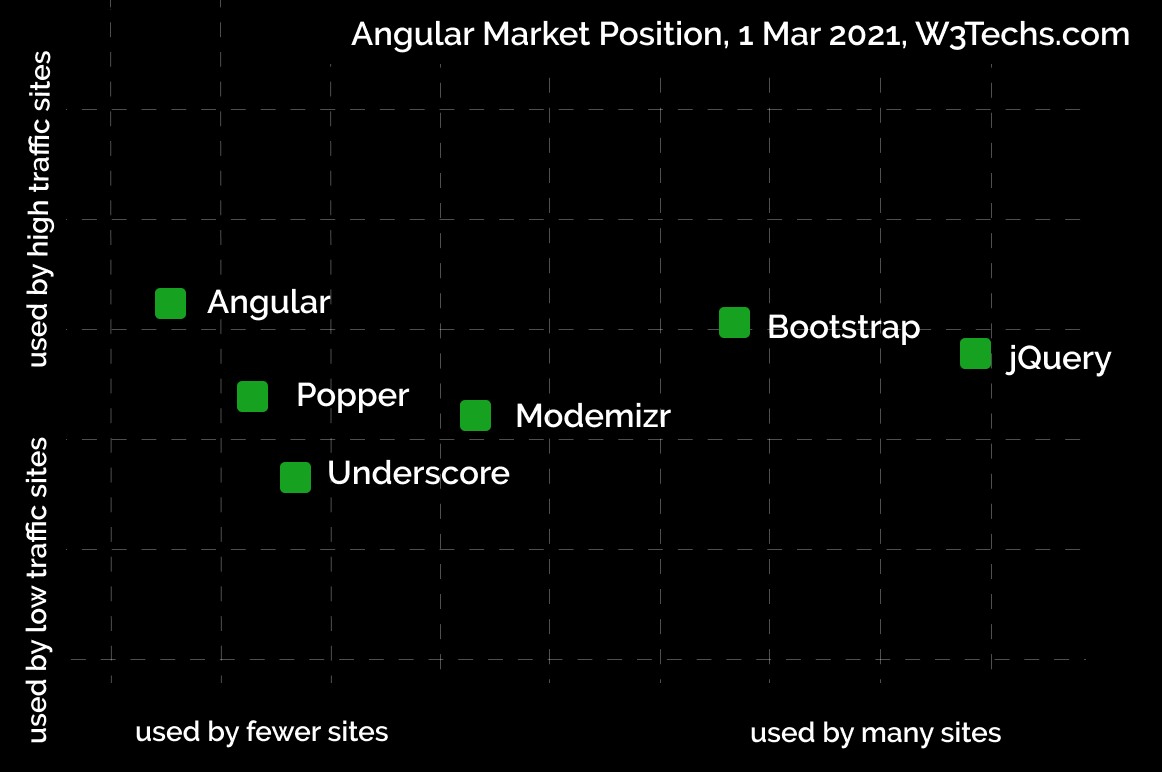 - 1. Clear and reusable code with TypeScript
- 2. Feature-rich functionality
- 3. Code consistency and repetitiveness
- 4. Platform flexibility
- 5. Holistic ecosystem
- 6. Official Google and global community support
- 7. Material design and modularity
Done right, your development solution can enjoy the full power of Angular while creating business applications for any
industry vertical
, be it eCommerce, FinTech, EdTech, HealthTech etc.
App developers did a great job elaborating more on the advantageous factors they find useful while utilizing the Angular framework. Among the most beneficial are the following factors:
- Feature-richness and multitude of options
- Feature-richness and multitude of options
- Great programming style with easy-to-use patterns
- Insightful manuals, guides and documentation
- Community and Google support and maintenance
- Good app development toolset
- Performance and productivity
- Backward compatibility
Source
What apps can be built with Angular?
As mentioned above, Angular is an excellent choice when it comes to
developing efficient mobile or web applications for business
with requisites like dynamic content.
In fact, there is a wide range of use cases where you can make the most out of leveraging the power of Angular. Let's boil them down to the following list: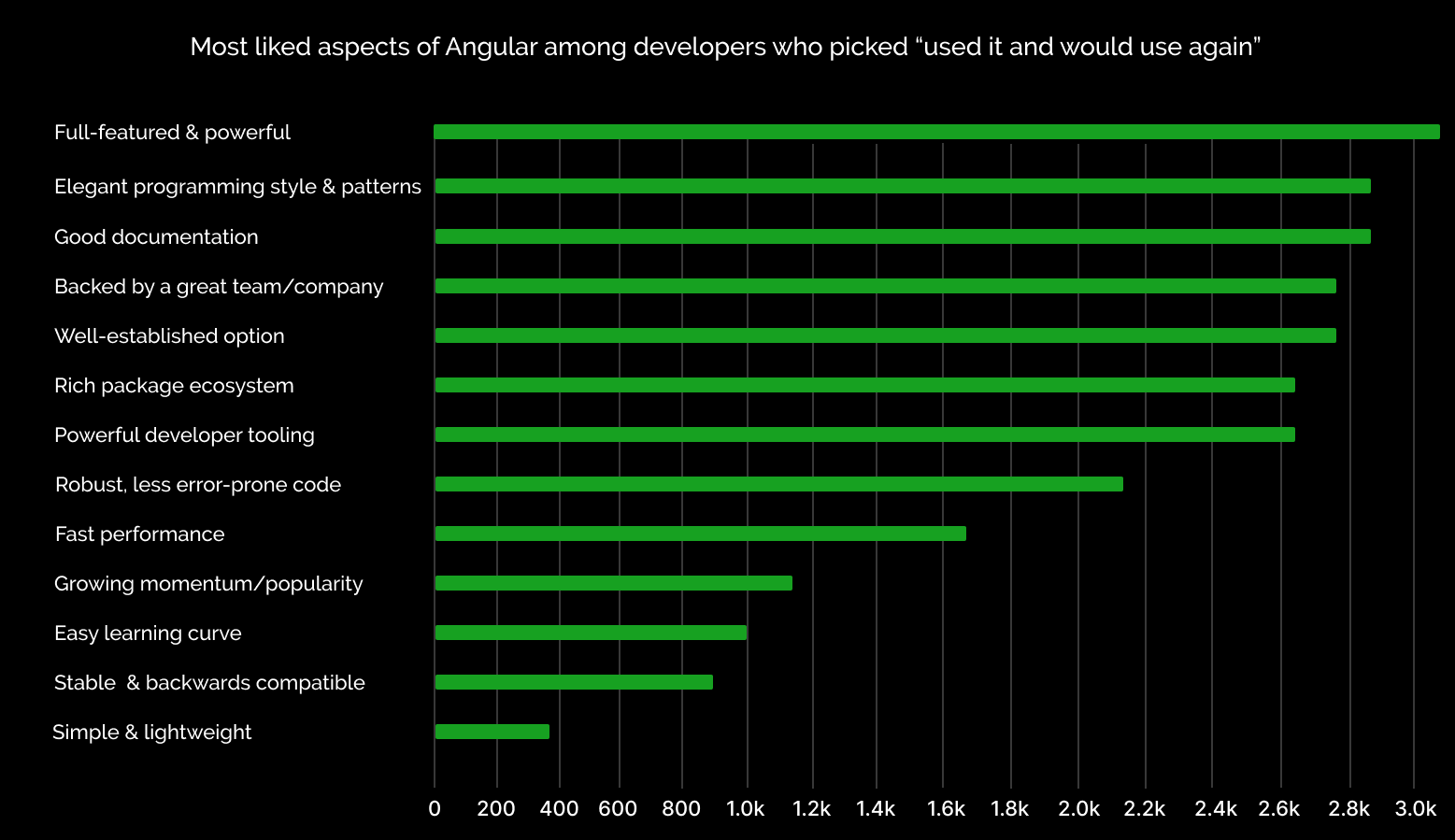 - Single-page applications (SPAs)

- Progressive web applications (PWAs)

- Server-side rendered apps (SSR)

- Enterprise-grade applications

- Business-specific mobile apps

- Actionable UI/UX design app interfaces

- Performance and productivity

Like it or not, but I'd not recommend using Angular if your project relates to developing web apps with static content or mobile gaming. In most other cases, the framework shows great results.


What apps and websites are built with Angular?

Although the business instances where Angular is used are numerous, there are some popular brands that everybody knows for sure. Here're the most trending ones, just to name a few:

- Forbes

- Samsung Forward app

- BMW Driveaway Price Calculator

- Language Understanding (LUIS) for Microsoft Azure

- Google Digital Garage and Marketing Platform

- Nasdaq Business

- Colgate

- Adobe Fonts

- Xbox

- American Express Live the World

- PayPal Communityand many more.


Bottom line
With all that said, Angular is definitely worth considering for building a robust commercial website or business application. Here at HebronSoft, we have much hands-on experience in developing and implementing software solutions based on the latest versions of Angular. Feel free to
contact us
, so we can help you arrive at the most efficient solution for your individual business needs.
5 min. read
Related Content
Why to Leverage M-Learning and Microlearning for Business?
VISIT
Browse Content
Top 5 Corporate E-Learning Trends for 2021
BROWSE CONTENT
Our Customers' Results
250%
Increase in Sales of Customers' Products
550%
Increase in Online Donations for NGOs
5.0★★★★★
Ratings from Clients' Satisfaction